Optimist Club of the Year

Click Here to find out more and apply for Club of The Year.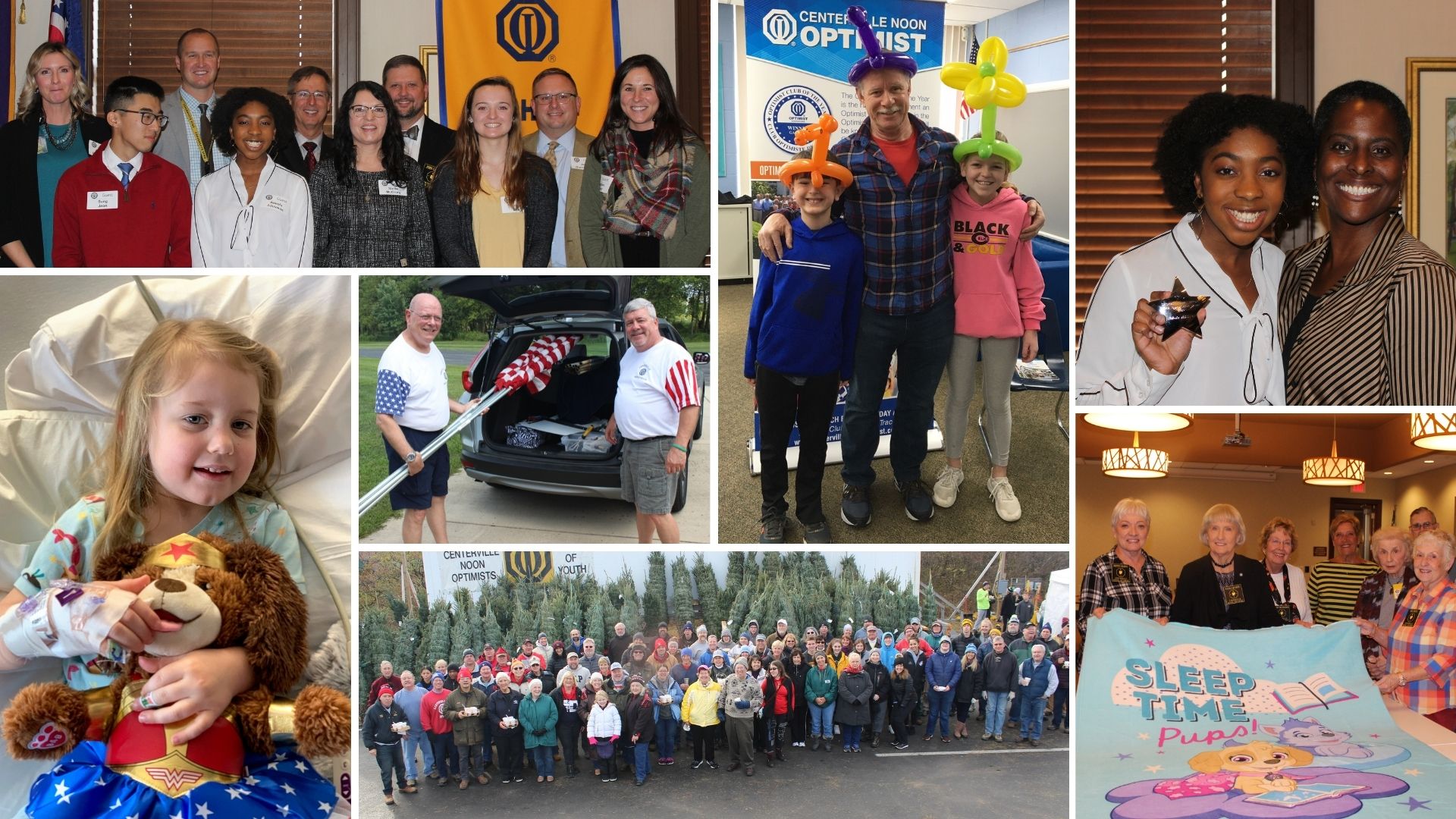 Congratulations to the The Centerville Noon Optimist Club for being named the 2020-21 Optimist Club of the Year!
The Centerville Noon Optimist Club Members are like many, dedicated to bringing out the best in youth, in ourselves and in our community. The Club sets examples and embrace an optimistic mindset for all to see. Being awarded the Optimist International Club of the Year twice within five years is an honored recognition of our Members who display leadership, work ethic, creativity and development both locally and throughout the world. The Club does this by working closely with schools, libraries, parks, law enforcement and firefighters. The Club and Members pride themselves on consistently providing mentors, optimism, scholarships, and recognition for their local youth.
How we help kids:
Reaching out with meaningful youth programs
Making a major impact with our youth
Working with youth-oriented organizations
Providing scholarships
Working closely with schools, libraries, and park
Their Members:
Embrace a totally optimistic mindset
Display leadership skills/li>
Develop community working relationships
Participate in fund raisers such as Avenue of Flags, Tee Off for Youth and Christmas tree sales
Support many Junior Optimist Clubs
Start new optimist Clubs annually like Optimist 2.0 and St. Leonard
N.O.W. (now W.O.W.) events online during the most recent pandemic, eventually adding more than three Members.
How we give back::
Oratorical and Essay contests
Easter Egg Hunt and Haunted Trail events
Tri-Star Basketball and Soccer
Youth scholarships
Build-A-Bear events for sick children
Fishing Derby and Safety on Wheels Bike Rodeo
Visual Arts and GOT TALENT contests

Citizens of the Centerville, Ohio, community, who want to give back look toward joining the Centerville Noon Optimist Club to advance personal development. Their weekly lunches are full of fun, food, friendship, and a little frivolity. Within two weeks after the pandemic shutdown announcement, the Club kept meeting via Zoom, holding weekly meetings and a guest speaker. Even Optimist International President Adrian Elcock spoke to the Club during this trying year. By reimagining their Club's youth activities, they were able to pull off a drive-thru Easter Egg Hunt and Build-a-Bear event in order to keep giving back to the community. Above all, the Club is proud that they even grew their legendary Avenue of Flags program as residents of the community stood on the front porches (socially distanced) and applauded their efforts during the shutdown. The Club found themselves helping other organizations that served at-risk children like Food2Go and Shoes4thrShoeless. When they found themselves in crisis due to overwhelming need, their Club, with the success of Avenue of Flags proceeds in its bank account, sought out and made major donations to each program, thus truly making a difference in the lives of the children their Members most want to serve. During the most difficult year in memory, The Centerville Noon Optimist Club continued to not only grow but to also showcase what makes their Club the very best this year.
Optimist Club President: Debe Dockins
Vice President - Robert Glavin & Beth Duncan Secretary -Jean Pummill
Treasurer - Roland Rapp

---
The Optimist Club of the Year
The Optimist Club of the Year is the highest achievement an Optimist Club can attain in the Optimist organization. The recipient of this prestigious award will be chosen regardless of number of members, or region and will be known as the "Best Overall Club" in Optimist International.
The Optimist Club of the year award is presented annually to the most outstanding Club in the organization based on the following criteria: