The first annual Optimist Junior Golf Spring Series event was recently held March 9-10, 2013, at Waterchase Golf Club in Fort Worth, Texas.

Spring was nowhere in sight as golfers braved some brutal wind conditions at this 36-hole, two-day event on a par 72 course. The event included 58 junior golfers from 16 states and representing five different countries.

In the boys 16-18 congratulations to our champion Miguel Collado from Mexico with a 74-74, runner up Zach Partin (Lewisville, Tex.) 76-73, third place Josh Radcliff (Coppell, Tex.) 72-78, fourth place was George Doykan (Houston) 74-77 and fifth place Levi Kettlehut (Charlotte, NC) 73-79.

For the boys 14-15, champion Jackson Howes (McKinney, Tex.) with a 77-74, runner up Travis McInroe (Plano, Tex.) 72-81 and third place with a 76-79 was Chase Fritz (Plano, Tex.) followed in fourth by Carson Seals (Ardmore, OK) 82-76 and fifth place Cameron Clark (Dallas) 79-80.

The girls 14-18 division ended with a sudden death playoff between Ashley Malinchak and Kirsten Pike. Ashley Malinchak (Parkland, Fla.) came out ahead with a 78-77, runner up was Kirsten Pike (Ovilla, Tex.) 76-79 and in third was Brielle Ward (Frisco, Tex.) 78-84, fourth Sydney Youngblood (Durant, OK) 82-87 and fifth Victoria Ramirez (Allen, Tex.) 83-86.

These top winners earn an exemption into the 2013 Optimist International Junior Golf Championships at PGA National Resort and Spa (July 31-August 4, 2013). All players met the scoring criteria for this event in order to qualify for the Championships.

Congratulations to the winners!

For final results, click here.

Future Spring Series Events
Look for more Optimist Spring Series events in 2014 in other locations around the United States and Canada as top finishers are exempt to the 2014 Optimist International Junior Golf Championships at PGA National Resort and Spa. Check back in December 2013 for date and location information.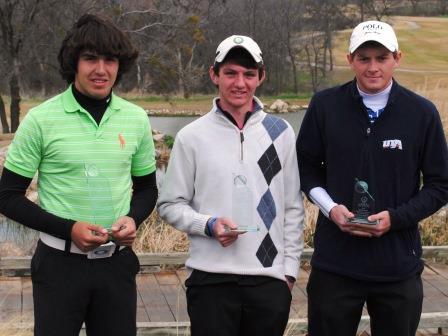 Boys 16-18 (from left): Miguel Collado, Zach Partin and Josh Radcliff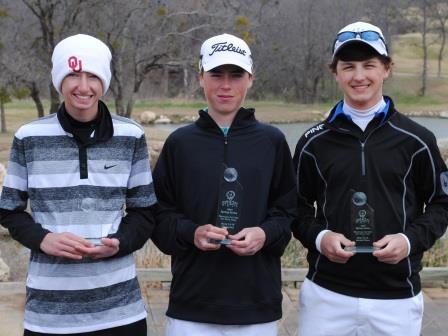 Boys 14-15 (from left): Chase Fritz, Jackson Howes and Travis McInroe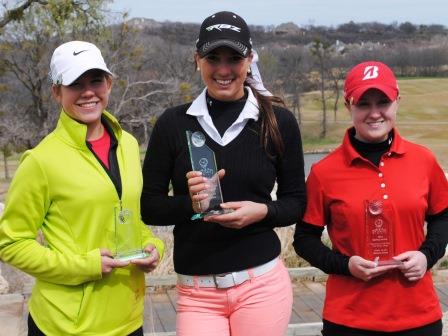 Girls 14-18 (from left): Brielle Ward, Ashley Malinchak and Kirsten Pike