here is nothing that celebrates a signifcant event quite like a giant cake. That is why Optimist Clubs from the Quebec City area baked the biggest one possible to kick of f a festive season in partnership with the Quebec Winter Carnival. The event was organized to celebrate the 60th anniversary of the Quebec Winter Carnival and the frst offcial Optimist Day on February 6. The Quebec Winter Carnival is widely regarded as the most important winter carnival in the world and is ranked third for the total number of participants, right behind the Carnival of Rio de Janeiro and New Orleans' Mardi Gras.
Optimist Gilles Jolin, the Chair of the project and Diane Frenette, President of the St-Émile Optimist Club were responsible for coordinating the activity, which provided wide visibility for the Optimist movement. Bonhomme Carnaval, the mascot of the Quebec Winter Carnival, even became a Friend of Optimists!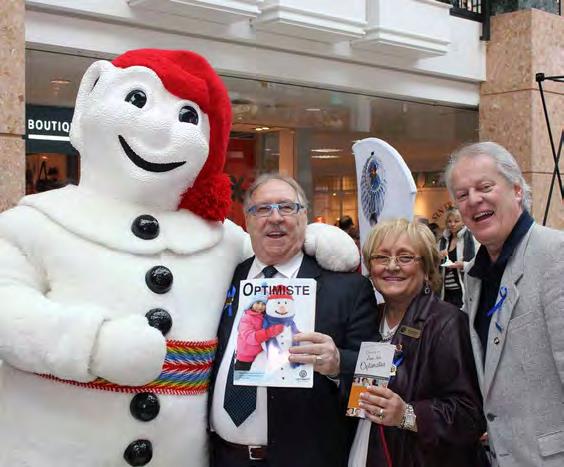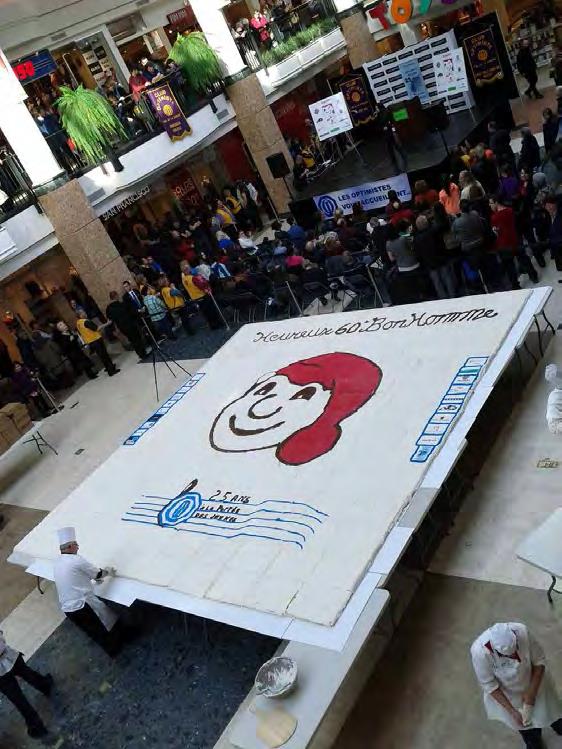 The giant cake featured the image of the Bonhomme and the logo of Governor Carolle Beaudet and consisted of more than 8,000 pieces. Canadian pastry company, Vachon/Saputo contributed the over 20,000 pounds of four, 15,000 pounds of sugar and 6,000 eggs required to bake the cake. More than 3,500 visitors tasted and enjoyed the huge dessert. Portions were also distributed through La Bouchée généreuse, a community organization that assists the less fortunate.