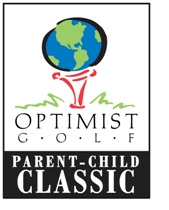 Tournament Date: July 25, 2016
Boys 10-11, 12-13, 14-15 and Girls 10-12 and 13-14
WE ARE SORRY BUT WE ARE NOT TAKING ANYMORE TEAMS.
THE PARENT/CHILD TOURNAMENT IS FULL.
The Champion Course at PGA National Resort and Spa
Palm Beach Gardens, Florida

Optimist International is proud to present the annual Optimist Golf Parent-Child Classic. We invite the participants of the Optimist International Junior Golf Championships to team up with a family member to compete in this unique family event.

Age Limit and Eligibility
The Parent-Child Classic is open to two-player teams consisting of a junior golfer playing in the Championships

Who can play – a parent, step-parent, grandparent or aunt/uncle. All participants must be amateurs.

A parent who wishes to play with two or three children can be accommodated. The parent will play one ball and the ball will count toward each child's team score. Similarly, a child who wishes to play with both parents can also be accommodated. The child will play one ball and the ball will count toward each parents' team scores.

Schedule of Events
7:00 a.m. -- Event Registration; Driving Range Open
8:30 a.m. -- Shotgun Start
1:30 p.m. -- Awards Luncheon

Divisions and Course Yardages
The event will be divided into multiple flights by age and/or gender based on number of entries received. Four sets of tees will be used, based on age, as follows. Exact distances are approximate and subject to change.
Boys 14-15 - gold tees - 6,569 yards
Boys 10-13/Men 55 & Under - blue tees- 5,800 yards
Girls 13-18/men 56 & Older = white tees - 5500 yards
Girls 10-12/women = red tees - 5000 yards


Tournament Format
Competition is an 18-hole stroke play event (no handicaps), best-ball format. Electric golf carts are included. Event will be a shotgun start at 8:30 a.m.

Entry Fee & Registration Deadline
The entry fee of $220 US per team includes tournament round (green & cart fees) for the parent and child, range balls before play, Optimist Golf gift package for both team members and an awards luncheon following play. The registration deadline is July 1, 2016.

Registration Process
Pre-registration is required. Registrations received after the July 1 deadline will be accepted on a space-available basis only. Registration is limited to a total of 49 teams. A wait list will be established if necessary.

Cancellation Policy
Full refund minus a $20 penalty any time before July 1, 2016. 50% refund any time between July 1-12. No refunds after July 12. Refund requests must be made in writing to golf@optimist.org.

Tournament Check-in
July 25 -- 7:00 am – 8:00 am
Rules and Regulations
The Parent-Child Classic will be played in accordance with all USGA and local course rules. A local rules sheet will be given to all players at tournament registration.

Awards Luncheon
An awards luncheon will be held after completion of play (approximately 1:30 p.m.) in the Bella Lago room. Awards will be given in multiple age and/or gender flights. All ties will be decided by a scorecard playoff.

Accommodations
Since the Optimist Golf Parent-Child Classic is held on the morning of the arrival day of the Optimist International Junior Golf Championships, arrangements can be made to adjust your hotel arrival date. The cost for early arrival is $132 per room per night, payable to Optimist International Youth Programs Foundation. If you have not yet registered for the Optimist International Junior Golf Championships, please indicate your early arrival date when you register online. If you have already registered, please e-mail golf@optimist.org to adjust your arrival date.

Questions or Inquiries
All questions or inquiries should be directed to the Optimist Golf office. Please e-mail golf@optimist.org or call (314) 881-1307 or toll free (800) 500-8130, ext. 207.

Past Results
2012
2011