Youth Display Optimism in the Face of Adversity
September 10, 2012

Attendees to the 3rd Quarter Pacific Central District meeting had the privilege of listening to 5 boys and 5 girls present their speeches on "How my Optimism Helps me Overcome Obstacles," the 2011-12 Oratorical topic. All of the young people had compelling stories, so the judges faced a difficult task in choosing a winner.

Jesus Alberto Salomon Chinchillas, the male winner was burned over 85% of his body when he was just three years old. Not expected to survive, he beat the odds and is thankful to everyone who stood by him. Now at age 11, he speaks to other burn victims to give them hope and encouragement.

Christine Baltazar, the female winner, explained how Optimism helped her overcome serious injuries to both elbows. Now, even though she has to hold her arms at somewhat awkward angles, she has become an accomplished pianist and is doing very well at school.

These students displayed an inspiring level of Optimism. They each won a $2500 scholarship to be used for higher education.

It's time to start planning your Club's scholarship contest for the 2012-13 year! Information can be found here. If you would like to work with younger children who may not be ready to compete in the Oratorical contest, please consider sponsoring the Kids Speak Out program.

If you would like information on entering an Optimist scholarship contest, please contact programs@optimist.org.


Marriage Proposal Highlights Iowa District Convention


It's often said that Optimism brings people together and the 2012 Iowa District Convention held on August 2-5, presented a perfect example.

The Iowa District was represented by over 30 Clubs and 150 Members/guests in attendance. Friday night started with a Riverboat Cruise & Prime Rib Dinner; the Governor's Banquet attendees were entertained by a comedian, Uncle Bruster, who kept everyone in stitches; and Sunday's Memorial Service began with a dance routine by Hills & Dales special needs dance group.

The highlight of the weekend was when Craig Markham decided that the Model Luncheon was the perfect time and place to ask his best friend, Michelle Kennicott to marry him! Craig and Michelle met at an Optimist event a few months ago. Both are Members of the Dubuque Noon Optimist Club and, yes, Michelle accepted the proposal!

Iowa is known for its fabulous conventions and surprises, but this one may be hard to beat! Craig's parents, Godfather, and several other Club Members were there to witness the proposal. Michelle was definitely surprised and Craig was a lot more relaxed for the rest of the luncheon!



Get Involved with the NEW Digital CPA Program




All Optimist Clubs have an opportunity to participate in the Community Projects Awards Program. This is an annual competition that recognizes Clubs for their community service and fundraising activities. New this year, is the digital CPA program which gives Clubs a simpler way to submit their entries and makes the process more fun.

In the Best Film category, Clubs are asked to showcase their project in a 10-minute video clip. The questions from the Project Story need to be answered during the video and the entry must be submitted on CD.

In the Best Writing in a CPA entry category, Clubs are asked to complete the Project Story and instead of printing it and their supporting documents, save them to a CD in .pdf format.

All Club entries should be submitted directly to Optimist International on CD by December 15. Clubs can submit as many entries as they like in either of the categories.

A CPA tutorial and sample videos are now available on the Optimist website. Check them out and get started with your CPA entry today!



Junior Golfers Take Home Optimist Championship Title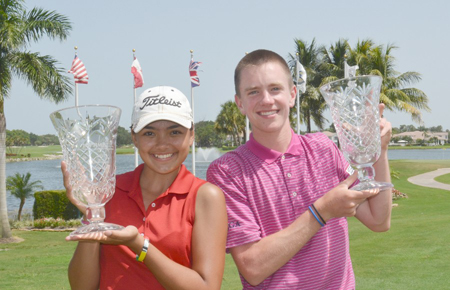 Scores remained low during the final round at this week's Optimist International Junior Golf Championships on the courses of PGA National.

For the boys 16-18 division, Joey Lane of Great Falls, Virginia, remained atop the leaderboard at the end of the final round, finishing four-under-par 72-68-68-76–284. Lane placed second in PGA National's "Battle at the Bear Trap" by shooting a 31 on Champion's challenging 15, 16 and 17.

Corey Pereira (Cameron Park, California) shot a 2-under-par 70 during the final round to move from fourth to second. Pereira had a four-day total of 71-68-76-70–285. Rounding out third for the boys division is Ryan Troyer of Dover, Ohio finished third in the boys division (77-70-70-69–286). Troyer's combined bookended 70s during the second and third round and low 69 in the final round secured his position.

With an even-par finish, the three boys tied for fourth place are Jeff Lang of Lexington, Massachusetts, (72-71-71-74–288) Corey Eddings of Roseville, California (69-73-73-73–288) and Jake McLeod from Australia (76-71-71-70–288).

Competition was close during the final round for the girls 15-18 division. Marcella Pranovia from Santa Ana, California, took home The Optimist title. Pranovia finished five-over-par with a four-day total of 69-73-79-72–293. Six strokes behind, in a five-way tie for second are Annie Dulman from Palm Beach Gardens, Florida (76-77-75-71–299) and Carly Ray Goldstein from Coral Springs, Florida (74-76-78-71–299) who both shot a low-round 71 on the fourth round. Maho Hayakawa of Mexico (70-74-80-75–299), Thamonpat Siriko of Thailand (75-77-73-74–299), and Eunice Yi from Evans, Georgia (75-77-75-72–299) also finished tied for second.



Strong Finish for Optimist Championships in Younger Age Divisions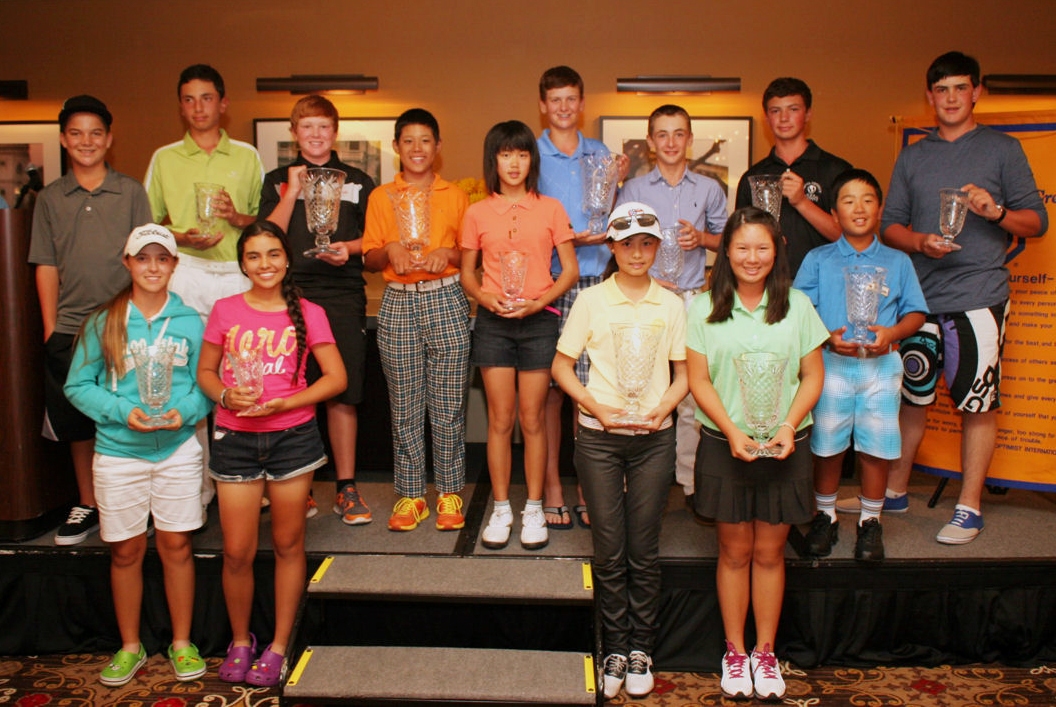 Competition was close at this week's Optimist International Junior Golf Championships on the courses of PGA National Resort and Spa in Palm Beach Gardens, Florida.
For the boys 14-15 age division, Mike Graboyes of Watchung, New Jersey, remained atop the leaderboard at the end of the final round, finishing 72-70-75-217. Fitz Woodrow IV from Charlottesville, Virginia, finished in second place with 74-69-76-219. Rosswell Sinclair of South Africa (75-70-76-221) ended the day in third place. Another element of drama was added when Rosswell Sinclair made a hole in one on #15 of the Champions course.
Kesaree Rojanapeansatith's low-round 66 for the day kept her at the top of the field in the girl's 13-14 division. The golfer from Thailand finished at 73-69-66-208. Maria Hoyos Villegas of Columbia finished three strokes behind the leader for the day, with a three-day 77-70-69-216. Columbia's Cynthia Diaz took third place with 72-73-74-219.
In the boys 12-13 division, it was a come-from-behind victory for Ryan Grider from Lewisville, Texas (70-74-69-213). Grider entered the day five strokes behind the scoreboard leader. Finishing in a tie for second was Adrien Pendaries from France (71-73-70-214) and Andrew Kozan of Palm Beach Gardens, Florida (71-68-75-214).
In the girls 10-12 division, Thailand's Thanyawarat Temyord chipped away at her score throughout the week and made her way into first place with a score of 72-74-75-221. Ela Belen Anacona of Argentina (71-75-78-224) and Thailand's Nicha Vorrasanpisut (72-72-80-224) finished in a tie for second place.
Guangshi Chen of China maintained his spot on the boys 10-11 division leaderboard with a 73 in the final round. He finished in first place with 70-77-73-220. Finishing in a tie for second place was Japan's Yuki Moriyama (81-73-75-229) and Mexico's Alejandro Madariaga (77-76-76-229).
Phase 2 of the tournament begins Thursday, July 26 for boys 16-18 and girls 15-18. For information on the tournament, go to golf.optimist.org.

Why I Support Optimist Clubs
June 25, 2012

Forty-three years ago, Ben Bradshaw joined his local Optimist Club. Today, he's still an active Optimist Member of Arnold-Imperial, MO and continues to spread the Optimist message to others. Ben shares why he supports his Optimist Club.
In a few words, it's because when I realize how powerful thoughts are, I am inclined to never think a negative thought; and I pray for strength to follow that inclination.

In my experience, the Optimist Club provides me a road to follow in pursuit of living a positive life. I start every day with the intent of living out the stated purposes of the organization:

—To develop optimism as a philosophy of life, utilizing the tenets of the Optimist Creed;
—to promote an active interest in good government and civic affairs;
—to inspire respect for the law;
—to promote patriotism and work for international accord and friendship among all people; and
—to aid and encourage the development of youth, in the belief that the giving of one's self in service to others will advance the well-being of humankind, the community and the world.

To the extent that we live to those purposes, the world will be a better place. Let's join hands to see what we can do together!
Why do you support your Optimist Club? Email us to share your story and for the chance to be featured as an Optimistic Story.


Making the Right Moves for the CCC



The Bonita Vista Octagon Club knows that fundraising can be fun, especially if you've got the right moves. After attending an International JOOI convention a few years ago, Club Members were inspired to involve youth from the local community to make a difference in the Optimist International Childhood Cancer Campaign.

The Club conducted their fourth annual Hip Hop Dance Showcase, which increases in popularity every year. Twelve dance groups made up of 300 dancers from local schools and dance studios performed in front of a cheering crowd.

Funds were raised through ticket sales and program ads sold to local merchants. The event raised $6,000 to be donated to childhood cancer research. The Octagon Club has now donated over $16,000 to childhood cancer research at Johns Hopkins.

Sending Kids a Smile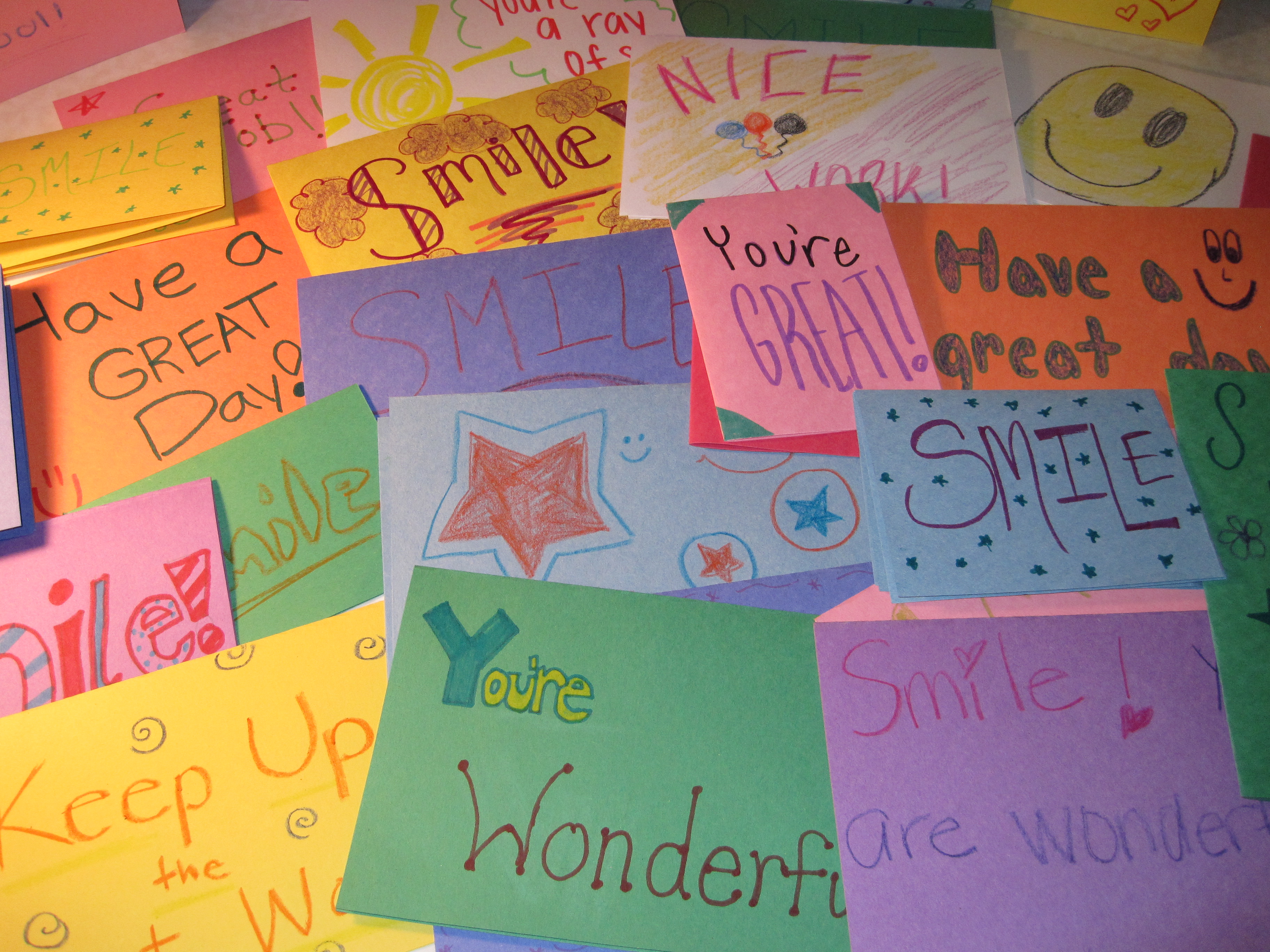 In an effort to reach out to more kids in the greater Green Bay area, the St. Norbert College Optimist Club came up with a project designed to offer an optimistic outlook on life to elementary school students. "Smiley-Mail", a project started by Tyler Cobb, works to counteract the negativity often seen in today's media by mailing students cards with happy pictures and positive messages.

At the end of every weekly Club meeting, Members take five to ten minutes to decorate cards with messages like "Smile!", "Have a good day!" and "Keep up the great work!" The cards are collected and sent to local elementary schools where they are delivered to students. Since starting the project last year, the Club has mailed cards to over 600 kids!

You can help the St. Norbert College Optimist Club be recognized for their project by voting for it on TrueHero, a non-profit public charity that recognizes and raises awareness for community and national service projects. Click here to vote.




Recruiting Young Adult Members





Optimist Clubs provide recent college graduates and young adults with a unique opportunity to become involved in their community. By joining an Optimist Club, young adults have the opportunity to meet new people, network and fulfill the desire to give back through volunteer work. In turn, Clubs receive more manpower, new enthusiasm and Members who can bring a new perspective to membership growth and service.

Consider using the three tips below to encourage civic-minded young adults to attend your next Club meeting.
Create a flyer with Club meeting and contact information at places young adults frequently visit, like coffee shops, the mall or the gym.
Visit local colleges and universities. Undergrad and graduate students are often looking for an opportunity to get involved and network within their community.
Ask current Members to reach out to their friends, family and co-workers. Personally invite young professionals in your office to attend your next Club meeting

Success NOW: Preparation Meets Opportunity
April 2, 2012

As a result of good leadership, forethought, and execution, the Canyon Country Optimist Club in the Pacific Southwest District celebrated the success of their Club's most recent NOW (New Optimists Welcome) event. Earlier this week, Canyon Country invited potential Members to dinner at Caruso's Italian restaurant and within a couple of days welcomed 11 new Optimist Members into their Club.
Past International Vice President Norb Moniz and Club President Adelaide Moniz credit their success to the legwork that was done beforehand. Deciding on an event type and venue and creating an invite list takes time and energy. Many of the Club's current Members not only contributed by inviting guests of their own, but also helped explain what Optimists do in such a way that the guests' hesitancy was greatly reduced. This prep work helped going into the event because guests already had a connection to the cause and organization.
The night of the event, potential Members were immediately welcomed by current Club Members and several District leaders in attendance. Governor-Elect TG Thomas addressed the group and talked about what being an Optimist means and shared projects that the Club and District sponsor. He told a story of a little bird striking a larger bird – explaining that the tenacity of the smaller bird helped it win in a mid-air altercation. He explained how Optimists are much like that little bird, tackling big issues affecting our youth. TG also spoke about the future of the District and how new Members would benefit the community and organization.
Club President Adelaide had three checks in hand before dinner was served and several more by the end of the evening. The new Members left full and excited to be Optimists!
Archives
August 2012
July 2012
June 2012
May 2012
April 2012