The NOW event is generally a dinner or series of dinners to which potential members are extended invitations. During the event, the Optimist Club takes advantage of its captive audience and shows the service it provides to the local community. While the NOW event generally includes a meal, some speeches or presentations and an invitation to join the organization, many Clubs modify the idea to fit their needs. Most importantly, the event should create an atmosphere in which new Optimists feel "welcome."
Zone NOW Event
Clubs interested in replicating a Zone-wide NOW event can follow this suggested timeline. Click here to download the timeline.
For information check out the NOW Brochure or contact the Member Services Department at membership@optimist.org.
New Clubs
One of the most dramatic ways to recruit new Members into the organization is to start a New Club. Check out the New Club section of the website for information about how to get started.
Coffee Recruitment Program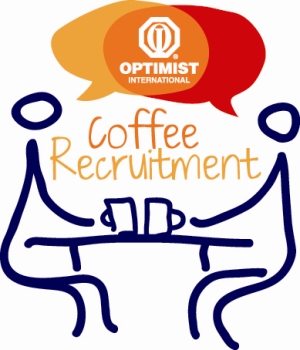 "Would you like to get a cup of coffee?" is the line many of us use to suggest sharing in a casual conversation. Coffee Recruitment is a program for Optimist leaders to recruit for long term goals by building new relationships. Building a relationship takes time, but the payoff in the end will be a stronger Club and a stronger bond between Optimists.
Click here to download the Coffee Program brochure. It should be printed on one double-sided page and folded in half.
Membership Recruitment Kit
The Membership Recruitment Kit is a method of recruiting potential Charter Members for a new Club, or to add Members to an existing Club.
Optimist Mentoring Program
Once an Optimist Club recruits new Members, it's important to keep them! New Member education is essential to maintaining or improving Club retention rates.

The Optimist Mentoring Program was created by Steve Andersen and Wes Ellis of the Gresham Optimist Club in the Pacific Northwest District. The program is a comprehensive new Member education tool designed to increase a Club's Member retention. To get started, check out the resources below.

Optimist Mentoring Program PowerPoint
Mentor Checklist
New Member Checklist