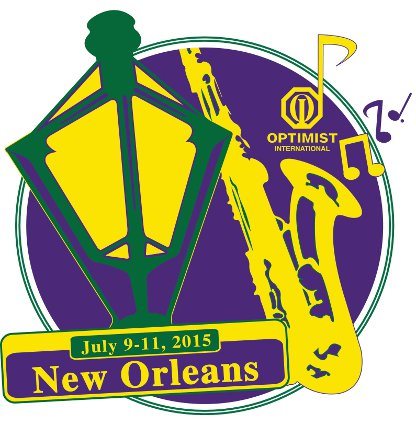 #OIConv15NOLA

July 9-11, 2015
Hilton New Orleans Riverside
New Orleans, Louisiana, USA

Live Stream Recordings
Opening Ceremonies

First Business Session

Second/Closing Business Session

Photo Gallery
New Orleans Convention Photos

Registration, Schedule & Details

Schedule
Convention opens on Wednesday, July 8, and the fun will not end until everyone leaves Sunday, July 12 (after the Presidential Banquet on Saturday night, July 11). Click here for a detailed schedule. Be sure to check this page frequently for updates.

Convention Workshops
Plan to attend the featured workshops at convention. For the full list of workshops, click here.

Convention Newsletter
Read the June 2015 Convention Newsletter for important convention details, reminders and tips!

Proposed Bylaws Amendments
2015-16 Proposed Bylaws Amendments


Keynote Speaker

Optimist International has arranged for an exciting keynote speaker for our annual convention!

Dayna Steele
Keynote Speaker for First Business Session on Saturday, July 11

Dayna Steele

is a leading authority on business success trends including social media, networking and customer service as well as a Texas Radio Hall of Famer, and author of the

101 Ways to Rock Your World

book series. She consults Fortune 500 companies, is a regular contributor to

The Huffington Post

and

Huff Post Live

, and is a popular keynote speaker for companies and universities.

About New Orleans

The New Orleans Convention & Visitors Bureau welcomes Optimist International!


Cuisine in New Orleans isn't the only thing spicing up the city. TripAdvisor 2010 Traveler's Choice® Destination Awards ranked New Orleans as the top destination in the world for night life. Taste for yourself why Bon Appétit named New Orleans one of America's Top 5 Restaurant Cities.

New Orleans offers a compact geographic footprint providing close proximity of hotels to the French Quarter and attractions, creating a true destination experience. The Louis Armstrong International Airport is just 20 minutes from the hotel.

Nowhere else does it occur more effortlessly or more joyously. Jazz, America's only original art form, was born here while Rhythm & Blues, Gospel, Cajun and Zydeco all express the rich melting pot that is New Orleans.

In fact, the city is home to more National Historic Landmarks than any other city in the United States. Conveniently situated in the central region of the US, New Orleans is ideal for travelers.



Housing and Travel

Housing
Experience the best of the Crescent City in a spacious guestroom with a view, take a stroll down Bourbon Street for some entertainment, and savor local specialties at Drago's Seafood Restaurant. Book Your Reservation Now or for more housing information, click here.

Travel
Optimist International offers discounted rates for airline & train travel, ground transportation and rental cars. For all travel discounts and details, click here.

Parking
Premium Parking is offering a 10% discount on overnight covered parking (normally $27.00 per 24 hours) located three blocks from the hotel. In order to receive the discount, you will need to reserve your parking space ahead of time. The discount is being offered July 6-13, 2015. If you will be arriving before or after the discounted dates, the regular rates will apply. To reserve your space, click here. Promo code: OIPARK

Motorized Scooter and Wheelchair Rentals
Contact Darren at Mr. Wheelchair, (800) 548-9672 or (504) 834-2810 to receive a special offer for a $30 discount per scooter rental from the website price. More>>

Entertainment

Optimist International has arranged for several unique entertainers during the annual convention.

Louisiana Kids, Inc.
Opening Ceremonies, National Anthem, Appreciation Luncheon, Youth Activities
Members of the local area group, Louisiana Kids, will have you dancing in your seats! More>>

DJ Marino
JOOI Convention Banquet, President's Banquet & Ball
Marino "DJ" Garbin is the current Governor of the South Carolina District and is also owner and operator of DJ Marino, a full-service entertainment and DJ service in Myrtle Beach, SC. More>>

The Crescent Circus
Old Timers Breakfast
Morgan Tsu-Raun and Nathan Kepner began working together as The Crescent Circus in 2009. While Morgan started as a hula hoop performer and Nathan as a magician, when the two joined forces their performances grew to become a fusion of acrobatics, a variety of juggling arts and physical comedy. More>>

Exhibiting Opportunities

Optimist International is expecting more than 1,200 attendees at its annual convention. The "House of Optimism" exhibit area is a perfect opportunity for fundraising companies, endorsed organizations, promotional product vendors and other companies to display their products and services in a public and high-traffic area. Bring Out the Best in your company by exhibiting at our convention! Download the 2015 Exhibitor Prospectus for details.

Exhibitors Attending

Ansell's Awards & Specialties

FundCrazr

ISADEX Corporation

Klassye Creations

Shumsky

Future Conventions

Optimist International has its sights set on a few great destinations over the next several years.
2016 - Quebec City, Quebec
2017 - Albuquerque, New Mexico
2018 - Ottawa, Ontario
Questions
If you have any questions, please send them to convention@optimist.org or call (800) 500-8130.