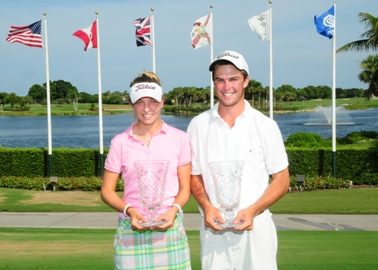 Congratulations to Girls 16-18 Champion Manuela Carbajo Re of Argentina and Boys 16-18 Champion A.J. Crouch of Jacksonville, Florida.

To view full 2010 results, please click on the links below:
Boys & Girls 10-11, 12-13, 14-15

Optimist Sunday Tournament
To see the winners of the Sunday Consolation Tournament (for boys and girls 16-18), please click here.

Optimist Golf World Cup
To view results from the inaugural Optimist Golf World Cup, please click here.
Photo Gallery
To view and order photos from the 2010 Optimist International Junior Golf Championships, click on the links below:
Championship Event Information
Returning Champion Wins Second Straight Title at Optimist; Carbajo Re Brings Girls Title Home to Argentina MORE

Returning Champion Takes Four-Stroke Lead Entering Optimist Championship Finals MORE

Junior Golfers Blast Their Way to Palmer Golf Long-Drive Championships MORE

Solid Rounds Boost Golfers to Top of Leaderboards at Optimist Championships MORE

Junior Golfers Have Big First Rounds at Optimist International Junior Golf Championships MORE

Australia Golfers Team Up to Take First Place at Optimist Golf World Cup MORE

Sixteen Nations to Compete in Today's Optimist Golf World Cup MORE

Optimist Championships End in Dramatic Fashion for Younger Age Divisions MORE

Golfers Move Closer to Six Optimist Championship Titles MORE

Golfers Gear Up for Palmer Golf Long-Drive Contest Finals MORE

First Round Proves to be a Close One at the Optimist MORE

Champs Return to Defend Titles at Optimist International Junior Golf Championships MORE

Optimist International Junior Golf Championships Return to South Florida This Week MORE

Fields Finalized for 2010 Optimist International Junior Golf Championships MORE

Older Boys' Divisions to Battle at the Bear Trap MORE

Former Optimist Champion Takes Second in NCAA Championship MORE

Optimist Junior Golf Announces Members of 2010 All-Scholastic Team MORE

Golfsmith and MoRodz Support Optimist Championships as Presenting Sponsors of District Winner Banquets MORE